Web based PHP and MySQL Asset Management database for fast easy access, updates and CSV generated reports.  The application is designed to manage IT assets from a Desktop Services perspective: computers and associated hardware, printers and software. I'm offering the software for free here to anyone who has a use for it.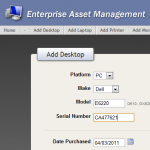 View the demo here
username: eam
password: eam123
Requirements
Follow ten step setup – Create a database, use supplied SQL dump file to populate.
Dreamweaver – Needed only if you wish to modify the application as it was written.
Updated – Version 3.0 – 04/13/2013
PHP 5.3+ support – addresses "Function session_register() is deprecated" error
Added – Asset Tag field
Added – Purchase Order field
Fixed and updated – Search and Search Results pages
Fixed – Login and Logout pages
Existing install upgrades – download package and follow Upgrade Steps in the Readme. Quick and easy: import SQL update, replace 8 files.
Download source code and all assets
Application files for version 3.0
SQL code, logo file and assets in the Assets folder
10 step setup doc in the root of the site  1-README.txt
Download password:  assets

IT Asset Management Software

6743 downloads

334.17 KB
Enter Correct Password to Download