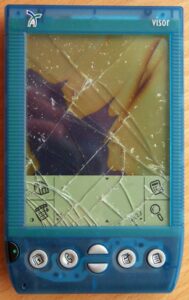 At left is pictured my $250 six week old Handspring Visor Deluxe©. Doesn't it look swell!
The demise: Testing has proven that the device at left will not tolerate a two foot drop from my knee onto a tile floor without dire consequences.
The reaction: Holy crap there isn't a scratch on this device let alone a dent or crack. Boom!
The response: A replacement will be on the way for only $85! (paid $280, full replacement $85)
The reaction: My sons $90 Gameboy is miltary grade bombproof.
Image: Kodak DCS290 and available window light.
Best viewer comment: I see an image of a purple Richard Nixon with big breasts looking upwards